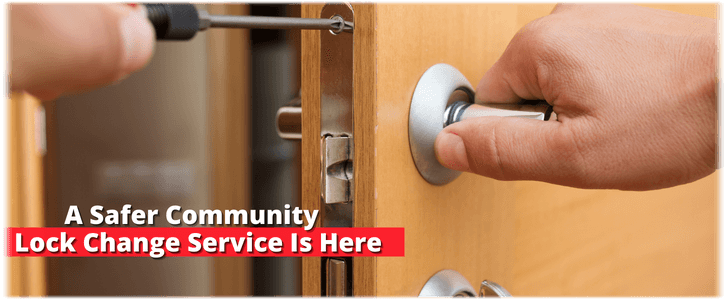 Do you need a lock change service in Salt Lake City? Then, you are in the right place. Our team offers safety solutions to help protect you by providing the best lock change services in the Salt Lake City area. We specialize in changing locks and reducing the risk of burglars or unauthorized access. Our services include the replacement of deadbolts, master keys, and other commercial and residential locks. In addition, we offer a 24-hour emergency lock replacement and lock rekey, always ready to assist you any time and anywhere at an affordable cost. Moreover, our technicians are all locals, so they are familiar with the area and can drive to your location in minutes. So if you need help changing your locks, call us today!
Lock Change Experts in Salt Lake City
Your safety is our priority. Upgrading your locks can improve your safety and provide peace of mind. We understand the safety of your home and business comes first. Fortunately, our team specializes in giving our customers the peace of mind they deserve by providing excellent lock change services. Whether from simple to complex residential and commercial locks, we can assist you in saving time and money. In addition, if you call us, we'll dispatch our experts to your location 24 hours a day, seven days a week, and anywhere in the Salt Lake City area. So contact us if you need lock change experts to improve your property's security. Please do not hesitate to give us a ring at (801) 921-4116. 
Quick with Quality Lock Replacement Support in Salt Lake City
Our technicians are well-known in Salt Lake City for their speed and expertise in changing locks. We do not only respond quickly to your locks, but we also provide lock change services at a low cost without sacrificing quality. Our outstanding detailing and use of high-quality products ensure you get the best service and results at a reasonable price. Our goal is to provide great customer service while also improving security measures. So, whether you need a simple residential or a commercial lock replacement, we can help. Call us if you need a lock change service in Salt Lake City!
We are available 24 Hours a Day in Salt Lake City!
We are here to help you whenever you need to replace your Salt Lake City home and business locks due to an emergency. Our lock replacement services are available seven days a week, all the hours of the day. As a result, you don't have to be concerned about time. We accommodate both scheduled and emergency lock changes for your homes. We are always available to provide our customers with an on-time service in Salt Lake City, with our team arriving within 15-20 minutes of your call. Our company ensures that we don't waste your time while replacing home locks. We work fast because we want you to return to your normal routine without undue stress. Our lock change in Salt Lake City is the easiest that you can get.